Why Should You Attend A Synergy Kettlebell Technique Clinic?
You have had a basic level of Kettlebell instruction and technique ability thus far; however you want to step up your skills to the next level.
We will be focusing on the essential Kettlebell techniques that are the foundational movements and once you master these techniques, your Kettlebell experience will be greatly improved.
Once you master these basic Kettlebell elements, when you perform the movements it will feel much more effortless.
NOTE: I did not say that it will be easier. Ha ha! Nice Try!!

What is a Kettlebell?
Kettlebells are solid cast iron or steel weights that look like a cannon ball with a handle attached. They come in all sizes from 5lbs to 125lbs. They have been used in Russia since the 1700′s and have found their way into America in recent years. They are now being used by school athletics, pro athletic teams, the Secret Service, Mixed martial art athletes, Firefighters, Power lifters, Weightlifters and everyday people just like you who really truly want to get the most results in the shortest amount of time.
Why use Kettlebells?
GREAT QUESTION! It has been proven that we burn 20-28 calories a minute with Kettlebells. People who train with Kettlebells experience faster results because the Kettlebell uses all your core muscles which are absolutely essential for maintaining good health. Unlike any other standard weight training or fitness programs, Kettlebells reduce the risk of injury because the movements are based on functional movements. A typical Kettlebell routine builds functional muscular strength by mimicking movements in your everyday life.
A single routine will use all ranges of motion so joints and muscles are strengthened from all angles as well as tie in aerobic movements all at the same time. So you can accurately say that Kettlebell Training is the most efficient training there is. You get the most bang for you buck.
What You Will Learn At Our Technique Clinic…
I will teach you the most efficient methods of the Kettlebell Training basic movements and breathing techniques.  By the end of the class I guarantee you will have increased confidence to practice each foundational kettlebell movement in your own training.
Synergy Kettlebell Technique Clinic:
Experience the best in Russian Kettlebell training with IKFF, AKC, & IKSFA certified coach Bob Garon.
What will be covered?
Our main focus is to provide you technical refinements to the foundational kettlebell movements of the Swing, Clean, Snatch, Jerk, and Long Cycle (clean & jerk). These will help you understand and instantly feel more comfortable and confident with each movement and know exactly what to do to develop great combination drills to maximize strength, power, fat burning and ultimate conditioning.
The 1st of 2 technique clinics will overview the Swing & Snatch.
The 2nd of 2 technique clinics will overview the Clean & Jerk.

Benefits Of Kettlebell Training Include:
Fat Loss – we burn 20-28 calories a calories a minute!
Increased Strength
Increased Stamina
Improved Overall Health & Well-being
Increased Athletic Performance
Enhanced Mind/Body Connection
Assistance In The Healing of Injuries
After you learn everything you will go through a really cool workout that culminates all the movements you learned during the workshop.
Here Is Some Information About Top Kettlebell Coach Bob Garon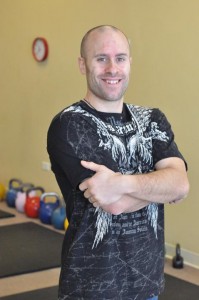 Bob is a Kettlebell Sport competitive athlete, coach, and gym owner.  At Synergy Kettlebell Training his focus is helping people get fit, stay fit and live longer, healthier lives through Kettlebell fitness piggybacked by clean, solid eating habits.
For over 14 years he's been professionally training is formally a U.S. Naval fireman. Bob is a Certified Kettlebell Coach, mentored under Steve Cotter & Ken Blackburn, through the International Kettlebell and Fitness Federation (IKFF), through the American Kettlebell Club (AKC) under Valery Fedorenko, World Champion in Kettlebell Lifting and Master of Sport with over 24 years experience, and also through the International Kettlebell Sport & Fitness Academy (IKSFA) under the most decorated Kettlebell coaches worldwide, Sergey Rudnev & Sergey Rachinskiy.
Beyond his Kettlebell coaching credentials, Bob is also certified through the International Sports and Science Association as a Professional Fitness Trainer.
Here's demo of the quality instruction you will receive at a Synergy Kettlebell Technique Clinic.
Here's What Folks Are Saying About Bob Garon's Kettlebell Instruction
I feel so much better after the kettlebell workout and it helps keep me get motivated over the weekend to stick to my diet. With your help Bob, I have been able to get back into my pre-pregnancy clothes in just 90 days. – Tina

Kettlebell Training is so paying off for me!! I was at work the other day and the softball guys came in and said wow your arms look great! I walked into work this morning and the guys in the shop said the same thing! Thanks Bob!!!!!! – Teresa Booth

I like Synergy Kettlebell Training and for me it makes the act of exercising a lot better when I am in the group then when I have to bear through it alone. In the past I have gone to yoga & pilates classes, but I never really liked them. They were boring and I quit in like a week after starting. Overall I think Synergy Kettlebell Sport class is great!!! Thanks Bob for teaching the class and helping me drop 60lbs! – Judi M.

There is NO WAY I would work out as hard as I do with out Bob. He's tough, committed, supportive, funny, and motivating just to name a few. Most of all, Bob has helped me to think more positively about life in general. He is an amazing trainer! The sky is the limit with Bob as a trainer. He truly is amazing and makes his clients realize they are amazing too! – Shauna M

Hey Bob, your Synergy Kettlebell Training workouts are so awesome and I wouldn't be who and where I am today without your help. It's so much fun that it's not even like we're working out. – Bill M.

Because of the Synergy Kettlebell Training, I have more strength, confidence, self-esteem, and self-worth. I look forward to being active every day. Bob doesn't just teach me fancy exercises that will impress people, but instead he teaches me that the body is a temple and should be treated with the highest respect. – Joni M

Bob- You are a great supporter. I remember my first day of Synergy Kettlebell Training and I couldn't even do what I'm doing now. I've noticed I'm getting a lot more tone and that's what I have been wanting the most. Thanks for supporting us all and challenging us too. -Erica F.

Bob I can't thank you enough for what Synergy Kettlebell Training has given me and honestly it's the best investment I've made for myself. I have 4 kids and just couldn't keep up with life. I ate at Carl's Jr., McDonald's, Chipolte, frozen dinners, you name it. One day someone emailed me a couple pictures of myself and I couldn't believe how I looked. That was the day I decided to find out how to change. Since coming to your Kettlebell Training I've lost 67lbs. and finally have energy to play with my kids. Thank you Bob! -Mac M.

I never thought that a personal trainer would do anything but make sure you counted to "10″ or that you extended your arms all the way through the exercise, but Bob does much more. He brings so much more to each Synergy Kettlebell Boot Camp workout. He makes sure I stay motivated, that I concentrate, and that I have fun. I sometimes find myself saying "I can't make it….today" as I'm half-way through the workout, but I quickly lose that feeling with the confidence and push behind Bob's words. The proof is in the pudding, as they say. Thanks, Bob! -John B

Bob your workouts are amazing!! As a mother of three I understand I need a lot of patience and dedication to experience fitness and health results. Synergy Kettlebell Training workouts have helped me get my confidence back. Thanks for your help! -Meesha S.
When & Where:
AURORA TECHNIQUE CLINIC
7:15pm  Tuesday, October 1st
ST. CHARLES TECHNIQUE CLINIC
7:15pm  Thursday, October 3rd
Cost:
Member Rate: $0. Your seminar fee is included in your membership.
Non-Member Rate: $35 and bring a friend for only $10 more per friend. (split the total cost if you'd like)
YES! Bob Refine My Techniques Toward Mastery!!!
===> Members Register Here:
NOTE: BECAUSE WE ARE PRINTING MATERIAL AND PLANNING APPROPRIATELY FOR THE EVENT, IF YOU REGISTER AND THEN CANCEL WITHIN 24 HOURS FROM THE EVENT, WE WILL CHARGE A $15 LATE CANCEL FEE. SO PLEASE REGISTER IF YOU KNOW YOU ARE GOING TO COMMIT TO ATTENDING.
MEMBERS: When you click on the registration link, log into your Zen Planner account with the link, in the middle of the page, "Already a Member? Log In To Register".
ST. CHARLES LOCATION RSVP BY CLICKING HERE
AURORA LOCATION RSVP BY CLICKING HERE
===> Non-Members Register with the Add To Cart button below.